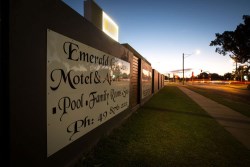 Things To Do
Van Gogh Sunflower Painting

3 min

Emerald Aquatic Centre

5 min

Botanic Gardens

5 min

Fairbairn Dam

15 min

Capella pioneer Village

30 min

Capella pools

30 min

Blackwater International
Coal Centre

45 min

Blackdown Tablelands

45 min

Springsure

45 min

The Gem Fields -Rubyvale &
Sapphire

45 min

Carnarvon Gorge

2 hr
Towns Nearby
| | |
| --- | --- |
| Comet | 20 min |
| Capella | 25 min |
| Rubyvale | 35 min |
| Blackwater | 50 min |
| Springsure | 50 min |
| Clermont | 60 min |
| Rockhampton | 3 hr |
| Mackay | 4 hr |
Things Nearby
| | |
| --- | --- |
| Bowls Club | 1 min walk |
| Cinemas | 2 min walk |
| Hospital | 2 min walk |
| Golf club | 5 min car |
| NetBall/Tennis | 5 min car |
| Shopping Centre | 5 min car |
| Town Hall | 5 min car |
Find Us
2 Harris St
Emerald QLD 4720 [map]
Office Hours
Mon-Fri: 7.00am - 7.00pm
Sat-Sun & Public Holidays:
8.30am -12.00 pm 3.00pm - 7.00pm
We have a key safe if you require keys outside office hrs.
We have a cancellation policy of 48 hrs.
Call Us
Phone 07 4987 6222
Great Reasons
To Stay With Us
| | |
| --- | --- |
| | Centrally Located |
| | All rooms are non-smoking |
| | All rooms are air-conditioned |
| | Swimming Pool & free BBQ area |
| | 10 of our motel rooms have hygienically cleaned spa baths. |
| | Undercover Parking |
| | Room Service for Breakfast & Dinner |
| | Free Foxtel – Large Flat Screen TV's to motel |
| | All apartments have dvd players |
| | Large 2 bedroom fully self-contained family apartments |
| | Large 1 bedroom full self-contained apartments. |
| | Guest Laundry |
| | Family Rooms |
| | Restaurant |
| | 5 mins to town centre |
| | Close to Emerald Hospital |
| | Friendly courteous staff |

Local Area
Fairbairn Dam / Lake Maraboon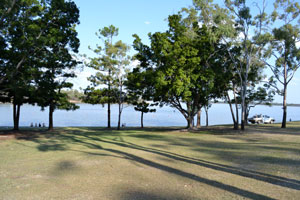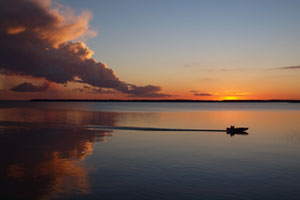 Fairbairn Dam has 3 times more water in it than Sydney Habour. Locals love to take their boats out and go water skiing. It has been loaded with 8 species of fish, it also has red claw.
There is a small sandy shore where you can go swimming. Free electric BBQ & picnic table for you to set and enjoy a lovely bbq during the day or in the evening watching the sunset.
Only 15mins drive from Emerald.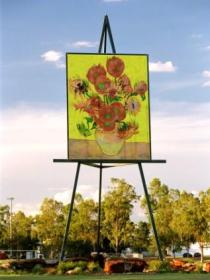 The world's biggest Van Gogh sunflower painting is situated in Morton Park, Emerald.
Emerald, famous as a major sunflower producer, is home to the world's biggest Van Gogh sunflower painting on an easel.
The huge painting is 25 metres high with approximately 13.6 tonnes of steel used in the making.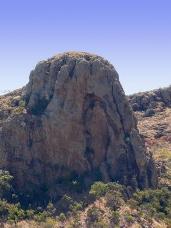 Visit the iconic Virgin Rock situated on Mount Zamia. Its name is derived from the figure appearing in the town-facing side of the rock that looks like the Virgin Mary cradling the baby Jesus.
See if you can spot these figures at night time when Virgin Rock is floodlit for all to see.


The Capella Pioneer Village is located in Pioneer St, next to Gregory Hwy. It has grown to a significant repository of the Central Highlands region's pastoral and agricultural history, including the largest restored drop-plank construction homestead in Australia.
The Village Collection contains over 5000 individual items that can be broadly grouped into the following exhibits:
Settlers – 1869, 1883, 1900, 1907, 1927, 1948, 1956
Central Highlands Wool Industry and Origins of the Great Shearers Strike
The Railway Lifeline
Wartime Remembrances
The Peak Downs Scheme (Queensland-British Food Corporation)
Broadacre Grain Farming
The Capella Pioneer Village annual Old Machinery and Craft Fair is held on the second Saturday of September at the Village grounds at the northern end of Capella's main street. There is something for everyone with craft stalls, entertainment, food, fashion parade, blacksmithing and vintage engines and tractors rallying.

The complex is open from 9.00am to 12noon Wednesday to Friday and Sundays during Autumn, Winter and Spring.

The Blackwater International Coal Centre arose from a vision of Duaringa Shire Council in 2003 which was supported and developed by major coal producers BMA Blackwater mine and Wesfarmers Curragh Coal.
The goal was to provide a sophisticated and enduring platform for showcasing the mighty Australian Coal Industry and the associated industries that underpin the state and federal economies. The BICC has not only become an iconic landmark for visitors to Central Queensland but also serves as an accessible and valuable space that improves quality of life for local residents.
The Coal Centre runs open-cut mine tours to Blackwater Mine on Wednesdays and Fridays dependent on weather. See further information about our Mine Tours on this website www.bicc.com.au or tel: 07 4982 7755 or email us on info@bicc.com.au.